Link Building is one of the proven techniques to grow/build website reputation in the eyes of search engines. Linking from relevant and reputable websites can take your website to the top of search engine for your desired key phrases and can help your website get more targeted traffic and sales ultimately. This sounds epic, but getting a link back from high quality websites is not an easy job, one must have quality content, creative pitches, breaking news, meaningful interaction. But sometimes even everything you did right didn't help you get a link from trusted media websites like 'Business Insider' or 'Huffington Post' or other reputable resources.
If you are new in the SEO industry your seniors must have told you to stay away from link buying or link trading is against the Search Engine guidelines. Yes that's true but when I researched over the web, I found many giant companies and businesses who are involved in straight link buying or in a way their link grabbing techniques comes under the umbrella of link buying, out of those companies we see few websites that have been tanked from the search engine results like 'Beat that Quote' 'JC Penny' and 'Over stock' but there are many who managed to stay under search engine's radar.
Link Trading or link buying usually refers to paying money in exchange for a link but should any link in which you exchange any sort of professional service come under the umbrella of link trading?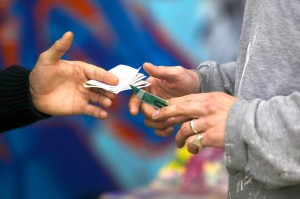 For Example:
Scenario 1:
A hosting company offers a free domain or hosting in exchange for a link from your website, Although there is no transfer of money in this scenario but still the hosting company is giving away its professional service for free just to have a link pointing to its website. Wouldn't this activity fall under the category of link buying?
Scenario 2:
Slightly different from the above example, here a hosting company runs a competition (may be a quiz) and the winner will get a free hosting and a domain for a year, also company encourage the winner to put a winner badge on its website (it's not must). Winner put the badge on the website that points a link to hosting company's website.
Would you count this under the category of link buying? Perhaps not but if you look closely as a 3rd party who didn't know the both scenarios, then it might looks similar, 'Company offer you a free hosting if you give them a link!'
With that confusion in mind, I contacted one of the finest SEO's and the most lovable personalities of SEOmoz community, 'Gianluca Fiorelli' to explain the whole concept of link buying as the concept itself is really blur and it's very difficult for one to draw the line in link buying.
He said,
"When we talk about paid link we usually refer to the situation where someone sell a space where someone else can publish an optimized text link (or banner/image with link)… but, if we enlarge the category of paid links, we could put in its bag also "partners' links" or "contributors' link" or any link that is the result of any kind of exchange monetary or not.
But, IMO, we have to put a limit… because if we go to the large inclusion way, we are going to discuss almost every kind of link building and to accept just the 200% editorial linking.
Personally I prefer the strict way of thinking: paid links are those ones that are created just because of a monetary exchange.
I believe that links generated by not directly financial sponsorships are acceptable. For instance, if a hosting company offers a free hosting to the non-profit businesses of its city/region, I think it can ask a link for the free service, as a form of thanks.
The same if a company is offering a scholarship to a college or university.
But, this might be the biggest distinction from the pure paid links, is that I see these kind of link building techniques more as a branding marketing tactic than a pure SEO one. I mean, I would not care if the link the site will give me voluntarily (not forced) is not optimized with the perfect keyword and it is just the brand name.
If you see it, the difference is that in the paid links we have just a pure money passing from one site to another; in the other we have a real implication in the nature of the other site that "thanks" you with a link.
I hope this answer works for you :)"
This clears lot of confusion; there must be a certain area where we have to draw a line for link buying.
In the scenarios mentioned above, scenario 1 (IMO) should be considered as Link Buying activity as in that case Hosting company is simply asking for a link in exchange for a service (no matter if it deserves it or not). This is activity is most similar to Over Stock where they offer special discounts for adding a link to .edu sites.
Unlike scenario 1, scenario 2 may not come under the umbrella of link buying as this is a contest and who ever will be the winner will only get the prize. This is a scenario where adding a link is optional so it's up to the contestant to add a link or not but it is usually encouraged to add a link and reciprocate the favor.
Link Buying is overall a very blurred concept and sometimes big companies get involved in these activities (maybe unintentionally), so this is really important to draw a line in between link buying and other forms of link building in order to stay ethical and more importantly sustainable.
  About the Author: Moosa Hemani is a young search professional working as an In-House Search Analyst for a well-known Real Estate Company. He often writes about search on different search blogs you can view the list of his guest posts on his About me Profile.