(But it only costs $20-40)
Review of Whitespark's Local Citation Finder
I've been using Whitespark's Local Citation Finder for over a year now and I want to share with others how it has helped me play (and win) "king of the hill" in local results against competitors with sites that are better established than mine. I'll show you how the LCF makes it easy to find citation sources and your competitors' collection of citations to beat them. Here's my full explanation of citations and how they help your local SEO.
Quickly Impact Your Clients' Local Results
The single best weapon in any SEO consultant or agency's toolkit for local search domination is Whitespark's Local Citation Finder.
The basic function of this tool is to find citation resources for your key phrases, coupled with a geo-local qualifier. The LCF finds search phrases that are actually being used to find the products or services you offer. The tool also scrapes these sites for their submission pages if available. It even provides a link so you can easily submit your citations. Very actionable data! With the help of the LCF, I can CRUSH any local competitor.
I'll walk you through my process which will show you how it works and how to take advantage of the goldmine of citation resources.
First, plug in search terms for your main business keyword in your regional area or city.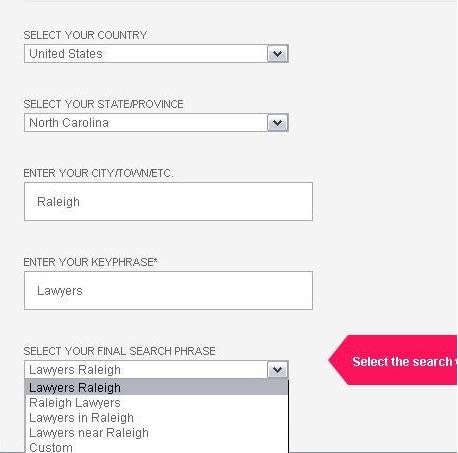 For example: If you're looking for citation sources for lawyers in the city of Raleigh, NC. You would enter the key phrase "lawyers Raleigh" into the tool's search box, and the LCF finds the citation sources for that phrase.
So we go to our search results tab to look at the LCF's findings. Then, we click on view sources to reveal the citation sources LCF found for us:

Then I usually sort the results by three criteria; occurrences (OC), Majestic AC Rank (ACR) and SEOMoz Domain Authority Score (DA) and make a top tier of citations I want to go after first. The reasons for sorting should be clear, but to avoid any misunderstanding I'll go on and say. OC, because this gives you a good understanding of what common citations the SERP dominators for your key phrase have. AC Rank, because it is a value based on the number of unique referring domains. And DA because it is judged by a site's influence in comparison to Google. This is to say that for link prospecting, I find the DA metric much more important than I do for citation prospecting. Meaning, your citation prospecting will come in handy in your link prospecting efforts, so sorting by this metric is not crucial to prospecting citations. The reason I factor in the DA, is because I place higher value on citation sources that offer a link opportunity as well.
At the top of our results, we see the SERP Dominators and their citations for easy competitive analysis of what you need to beat. Note that some of them have a considerably lower number of citations and yet they outrank some that have several more. This is likely due in part to the quality of citations they have. A smart betting man would look at the two that have less citations but rank in the top 10 and lay a down a twamp on them having two things the others don't: citations that not all the others have, and citation profiles that have higher AC and lower occurrences. That is my definition of a quality citation. Now it's up to you to outreach to each on your top tier which is usually as easy as submitting from the [submit your business] link the LCF provides for you. You can also run queries on your own phone number or your competitors' phone numbers to help you track your citation profile growth or keep tabs on your competitors' citation profiles.
Many will be trade orgs and membership driven which generally cost a fee. If you determine that most of all your competitors have citations that are fee-based, you should compile a list of them and find out at what membership level you can also get a do-follow link.  Then present this list to your client and ask them to determine a budget but only if your citation building needs an extra push to edge out competitors. I have done this only a few times when I got into the top three and wanted to edge out the other two competitors. Otherwise, you're best off getting citations they may not have access to or may not be privy to.
Darren Shaw, creator of the LCF, was kind enough to "dummy-proof" his invention by providing a simple tracking system, the ability to share a site's submission page should you find it, the ability to mark sites as useless, and the glorious ability to export your results (very important to show your clients what you're doing). Every client I have shown the LCF results to easily understand that it works and they can clearly see their local rankings rise after your efforts.
My favorite feature Darren integrated into the LCF is "Re-run & Append". If you go into any search result, you'll see the new link top right beside the export link. This allows you run the search again, and it will append any new citations it finds. It's very useful for phone number searches if you want to monitor your own citation growth or your competitor's citation growth. Darren let me in on another feature soon to be added, the LCF is going to provide the option to automatically run these once a week, and so it becomes a citation monitoring service.
Another really cool thing about the LCF is the "Site Type" which is in Beta release but seems to be working fine with no bugs. I'd only like to see more types in this category such as .gov and .edu's. Many times you can find government and university directories to which you can submit a citation, and being able to sort by that method might help locate more of these sources.
So there you have it, Whitespark's LCF is an incredibly powerful tool that every agency should subscribe to because it can make you more money and any business can benefit from because local results are more granular and proximity based so you can oust competitors with these sources.
Here's a full tutorial with Whitespark founder Darren Shaw:
Gonzo Approved:
My clients appreciate the results they get from me using the LCF to build citations for them. I use this as one of my most basic services and price it fair. Success from using the LCF leads to stronger relationships with my clients and they easily want to add more conversion-oriented and long-term services to my tickets without me having to ask, all because I used the best tool for the job.
If you currently have a subscription and would like help using the LCF, I'd be happy to show you how I use it for advanced citation building methods. If you have clients that you are unable to provide local SEO services to, I'd also be happy to bid for the citation building for your agency. With this tool alone, anyone can make 10-100x what you pay for it in a month. Are you a cheap son-of-a-vitch? Still not sure? Then get it for just one month and use it to death. I'll bet you that twamp if you use it right, you'll get it again next month.