As I forge my path in this world, there are some lessons I've learned along the way. Many of them were hard-learned and have helped me make wiser decisions later. Sometimes, all the wisdom and knowledge in the world can't help you make a choice between good and better. When both options have merit, the decision is even harder to make.
In my 2nd favorite baseball movie (Eight Men Out slightly edges the #1 slot) Bull Durham, both Nuke and Crash have know-how and elbow grease for their sport. Ebby Calvin gets called up from the majors and Crash stays behind and holds it down for Bulltown. My story is a bit different, but I identify with both characters as they make their way in the game and in their lives.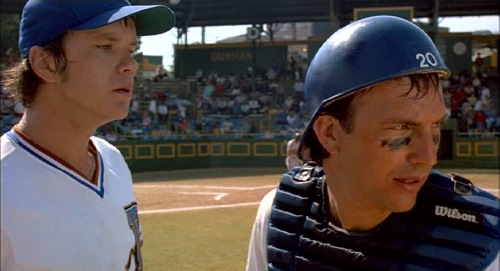 Photo credit: http://thisdistractedglobe.com/2008/10/12/bull-durham-1988/
I'd been  grinding away in the minors, trying to build something for myself for the past few months.  Part time in-house, part -time agency, side clients and other small contracts were the makeup of my income and the source of greater stress than I encountered after being an in-house guy for the past several years. I don't care for having to wear multiple hats of running my own business, but I do appreciate the independence from rote rat-racing and stringent corporate employee policies. Once things got too comfortable and no real way of growing without compromising quality, I decided to seek a challenge and one where I could grow and help a company grow as I'd done in the past with success. As if by willing it to happen, I got two calls. One from an incredible PR firm that offers me the chance to work on killer projects, and the other from a major player in real estate. The PR firm is very impressive, with talent and clients I want to work with, right here in Raleigh. The real estate outfit is Big Time like Peter Gabriel and is in my second city of San Francisco.
Both of these are options that if the other wasn't presented, I'd have no issue taking. Either of them are sound financially and have room for me to grow and both are eager for my talent. I can go yard on a high-inside fastball and maybe hit the bull and win some steaks, or I can go show my stuff on the mound at Pac-Bell Park* and record K's and W's for the Giants.
What would Robert Frost Do? If alive today, he'd watch Bull Durham and write some post about how he can't make up his mind…. and then realize how grateful he should be to have these opportunities, but then also realize how hard he'd worked to get those opportunities. Then he'd realize it was late and he needed to sleep on it some more.
*IDGAF what they call it now, it's Pac-Bell Park to me. #nostalgia