The Gonzo SEO is proud to present a guest post from Joel Klettke, the coolest keener from Calgary since James Gosling. Joel kicks ass daily for Vovia Online Marketing there in Cow-Town and he can be easily talked into a guest post via twitter @cstechjoel.
We all want to make friends – especially in an industry as small and interconnected as SEO. Nobody wants to be "That Guy" known for outing his competitors or sending competitor's clients "Did you know you don't rank for…" e-mails. But while I am madly in love with the SEO community and I've made some amazing friends in the industry, business is war; a war I want to win.
That's why over the past three to four months, I've successfully stolen clients from my competitors. After all, are there any better leads out there? They already know and appreciate what SEO can do. They've got budgets. They've got expectations – and if you watch carefully enough, you can see when those expectations aren't being met and exploit it.
So this is basically an open letter to my competition. Here's how you helped me steal your clients, and why I'm going to be able to do it again.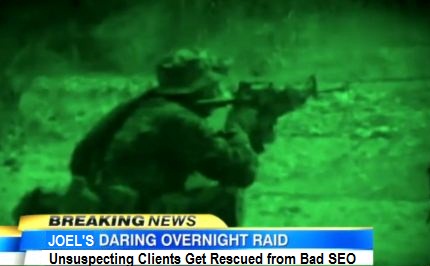 You're a bad communicator.
You spent an awful lot of time cold calling, but once you landed the client, your interest level dropped off. You wooed them, wined them and dined them – and then you lost touch.
You stopped sending updates. You stopped picking up the phone and asking them how they felt their campaigns were going, what their concerns were and whether or not they were seeing any ROI. Once a month they got your e-mail.. "Attached is your SEO report for June. If you have any questions or concerns, please don't hesitate to ask." – Yeah, real personal.
You left them in the dark.
All I had to do was step in and romance them away from you. A comprehensive, personalized audit combined with a phone call and the next thing you know, your checks are landing in my bank account.
 Your reporting is atrocious.
Word to the wise: Your SEO reports aren't hard to coax out of your clients. I've seen what you're giving them, and frankly I wasn't impressed.
For starters, your recommendations were either missing, or incredibly vague. They weren't actionable. "Develop more content surrounding your targeted keyword phrases". "Improve your internal linking". "Have you thought about infographics?" – are you for real? How are they supposed to move on those?
Somewhere along the line you forgot that clients don't speak your language, don't know what you know, don't know why they should care and need to be handheld like 5 year olds.
The next place you screwed up was communicating your value. You sucked at showing them what they were getting for the cash they were paying you. You didn't use visuals. You didn't pick out specific and notable wins. Gosh, that's too bad.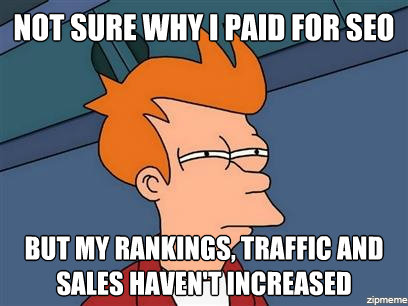 You also chose near-meaningless KPI's – total overall traffic, time on site, total pages visited.
You never showed your client the money or the wins (conversions? Unbranded traffic? Total number of traffic driving keyword phrases?).
So I showed your client the holes in your work.
You got apathetic.
The problem wasn't that you weren't getting results. You were. But then you moved on, patting yourself on the back and writing up the case study.
You got to the "good enough" stage and stopped looking for ways to expand the campaign. Stopped looking for new niches and verticals. Stopped thinking about how you might drive new referral traffic. Stopped thinking about creative ways to increase your reach and conversions.
Newsflash: An SEO campaign is never "done" or "good enough".  The site didn't need to tank in the rankings; it just needed to stop capitalizing on the wealth of opportunities you weren't thorough or caring enough to identify.
Your client cared, though. Especially when I showed them the niches you were invisible in. Rankings and traffic don't need to drop for you to lose the trust of your clients. They just needed to see the greener pastures. So I put together a presentation outlining where their competition was beating them, and how they could play ball in those areas.
You screwed yourself from the very beginning.
Ah, this one is a favorite. There's three ways you've been handing me clients.
First: You don't educate your clients. You sell them something they don't understand. You don't explain the "Why" behind the "What". They never understood what you were (or weren't) doing until someone came along and explained how it all works. Wink wink, nudge nudge. You also didn't educate them on an ongoing basis. A lot changes in a year.
Second: You failed to manage clients' expectations. You sold them a cheap "package" and forgot to mention that the moon they felt was on order wasn't going to arrive. You put their focus on the wrong things: rankings. Total number of links built. And so on, and so on. They thought they bought a #1 ranking. You never told them otherwise.
Third: You charged too little. Yup, that's right. In a dash to get the client, you undercharged to land the account instead of charging what was necessary to actually get results. Combine that with the first two and it was a recipe for failure.
So I met with your client and explained how and why we only quote custom solutions. They loved it.
Your work was awful.
Thank you for not staying current. Thank you for not being strategic. Thank you for resorting to the link building fad of the day with no real regard for sustainability. Thank you for not knowing anything about content siloing, 301 redirects or canonical tags– and thank you for being completely oblivious to how the search engines were changing and evolving. Thanks for all those doorway pages and that enormously fat footer too.
All I had to do was wait for the next algorithm update, run a competitive ranking report and pick up the phone.
Don't let it happen to you!
At the end of the day, I wanted this post to be a cautionary note to the SEO's that I know and love out there. I want this to make you panic a little bit, pick up the phone and call your client – just to chat. I want it to make you go check the reports you've sent out over the past 3 months and see whether or not you're committing the sins of vagueness, repetition and obscurity.
Because even when you're on top of the world and your clients are getting killer results, it's easy for someone else to come along and blow holes in your armor.
Keep communicating. Keep current. Keep innovating. Keep educating.
The minute you stop, you're vulnerable.
**Editor's Note: Joel is a professional at client expropriation from the clutches of under-performing SEO's. Unless you are prepared to service a client with measurable results, do not try this at home! ~ DR