Good day, Gonzo gals and guys.
It's @content_muse; coming to you live, bangin vibes from the brain to the keyboard for your internal storage pleasure.
When we last left my mind at Kaiser the Sage's place, I was giving you a tour of alternative yet actionable link-building goodies.

Don't be afraid to build links out of your regularly-scheduled comfort zone.  It's not that the old flavors have lost their taste (Though some scaled processes makes my organic senses turn sour.), it's that link building, like traditional marketing, grants opportunity to blaze other trails.
Sometimes, rather than repave old inroads, rehashing previously broached argument, methods, and results, one must turn that fucking Jeep sideways, and consider blazing their own trails.
We've beat old link building methods (Though, many still work effectively) with a hollowed horse head.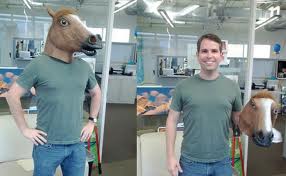 I'm happy to have people who endorse my tendency to go off the grid when minding particular clients and methods of marketing.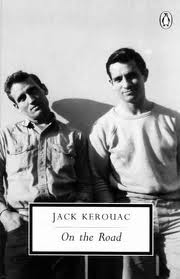 If you have faith in your product/service's intended value, and your boss and client have your back, your roads exist any and everywhere.  Get lost…
When I just a mini muse, my parent's provided me with a wealth of toys to play with in our third-story row home in South Philadelphia.  I didn't have siblings and not allowed to play outside without a watch on me.  That third-floor room, in retrospect, was my creativity laboratory.
I return there again and again for marketing purposes.
Have you ever had a discussion with a child?  They view things very honestly, playfully, and with great question and wonder.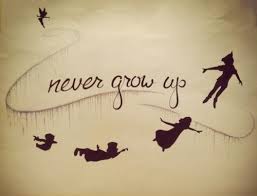 But enough introductions and pleasantries in getting to know a bit about me, your guide.  On with the show, shall we?
Peter Llewelyn Davies: [as a preface to his play] This is just a bit of silliness, really.
J.M. Barrie: I should hope so. Go on.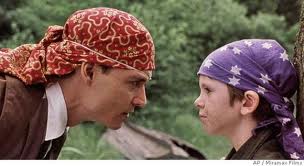 Hello, HARO
I enjoy using HARO now and again.  Reporters and editors need insight and content for upcoming stories.  HARO allows them to connect with those who can help them produce quality stories.  If you have something valuable to provide, aside from factors beyond your control, it's likely reporters and editors will (at least) appreciate your participation; best cases get your brand and CEO's under the lights of major publications and in front of more consumers.
HARO is a two-way communication device.  Sure, we want PR opportunities, but what about everyone else?  They want them too, right?  Therefore, get more people involved in your content creation (psst, just like editors and reporters from major publications do every day).
Rather than respond to their queries, make your own, creating opportunity to field insight from others, ingraining it in your content.  Who knows?  Those who contribute to your content are likely to drive traffic and exposure to your composition; it is featuring them, right?
We have great crowd-sourced pieces like this.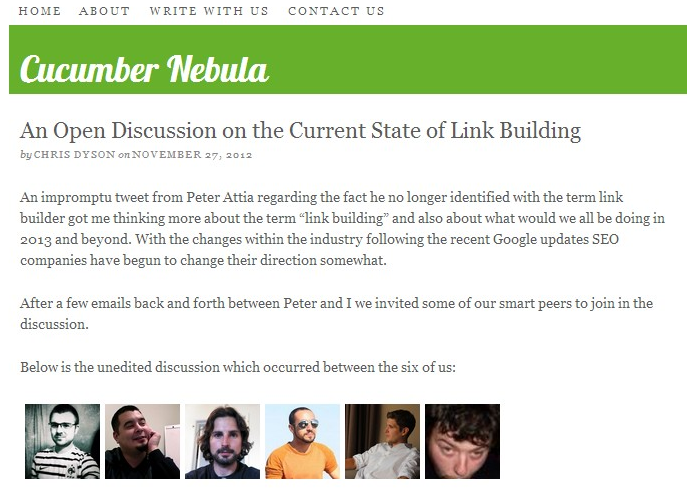 But, as we commonly admit, we in the online marketing space are a bit more 'social' than others in various industries.  HARO gives your brand the chance to become an interviewer and news source.

So, (stay with me here) major publications use this technique, interviewing and asking others about particular stories and angles, to increase the intrigue for readers.  That's what you want to do too.  Also, getting more people involved in the composition likely begets more traffic and links from their sites and brand-related real estate.
I've been interviewing recognizable figures on LinkBuilding.TV.
If I wanted to expand my interviewee potential, I may put some feelers out on HARO, making the interviews more dynamic for viewers and increasing our relations with more personalities and link building opportunities.
Rhoades Reader Review
– Develop an editorial calendar for to-be produced content.
–  Use HARO to scour for those who would like to contribute
–  Be proactive, weighing opportunities, remembering some events may build more links while others are beneficial for public relations purposes alone (those may not bring links, but traffic, which produces money
)
Remember the ferry scene in the chocolate factory where things get weird?  This is that moment.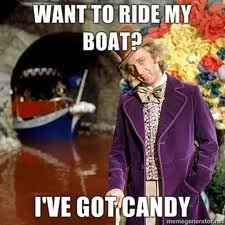 I'll be transparent in saying the muse is an independent thinker.  Like particular angels who were coerced to make a heaven/hell choice, ultimately deciding to think for themselves, @content_muse is stuck in a purgatory, not obedient enough to gain access to heaven, yet the devil himself does not admit rebel angels, fearing their independent philosophies.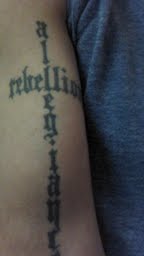 Therefore, the rest of this post and some suggestions are to be carefully read, understanding with some actions come ascension to greatness or descent to search engine infernos.  Abandon some hope, ye who proceed…
Creative Comments
We all know I enjoy comments, not so much for link building,  but because when you comment it expresses more of you.  That way, people can gain a better perspective on your personality, your acumen, and your value to the community.  But, what do I know; I'm just a hack writer.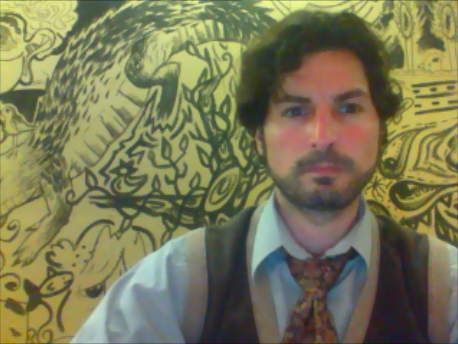 When, I'm not writing of late, as mentioned, I'm whitening my teeth and getting Botox injections in preparation for my interviews on LinkBuilding.TV.  Aside from LBTV, I've been taking a guerrilla approach to video, snapping real-time tidbits whenever the mood strikes.
A bit ago, I asked Jason Forrest, a cohort of mine from Indy Hall, what he thought about Chris Dyson's post on sharing social media.  I want to be the techni-colored man who lives in the chocolate factory with little creepy men.  That indefinitely makes me memorable and standout among the crowd, no?
Take a look at what I did in combining my creativity with opportunity to comment on Dyson's Disqus comment system.
Disqus marked up my YouTube video.  Do you want to find more sites using the Disqus commenting system?  (I like that guy's style; he uses search operators.  I know a dude like that.)
Quickly, I may do a lil search a lil somethin like this:
"blog comments powered by Disqus"   "seo"
…unleashing the fury on potential blogs by niche I can comment upon, using video.
As, I understand Disqus comments are indexed (at the discretion of respective search engines) but the comments are no follow.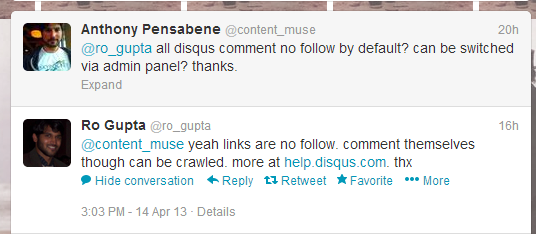 Listen, @content_muse has been known to stay out past his SEO curfew from time to time, running into some black cats.  In short, I know a few dudes who know a few dudes who know a few things about coding…
In confidence, I overheard someone talking about using ctrl+F, searching for nofollow prompts in the the Disqus WordPress plugin, and simply removing them to enable followed links.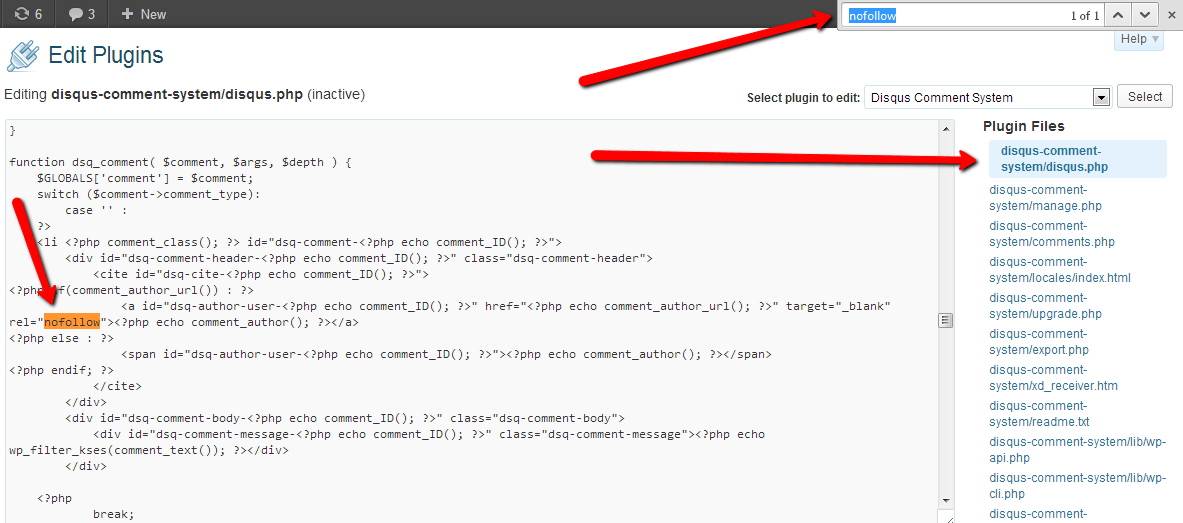 I'm not advising anyone to do anything.  However, one could search for blogs using the Disqus plugin, making webmasters aware of your ability to modify their source code along with addressing WordPress security issues, which may pose threats to their site.
Rhoades' Reader Review:
– Realize commenting is great for PR, exposure, and possibly begetting links
– Search for webmasters using the Disqus comment system
– Understand Disqus can be SEO friendly, recognizing YouTube videos and other media sources
– You'll need to prompt the webmaster to allow you to modify the source code or give them a reason to want to, such as alerting them of other WordPress risks
Charcoal Cloaking
Many people know @content_muse to be a nice boy; and he is (when warranted).  However, don't get your saints twisted, I'm no angel all the time.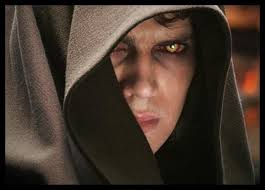 "Beware of thy entrance into a quarrel, but being therein, ensure those opposing you beware."
I don't condone mischief; actually, that's not true at all – mischief in moderation is muse endorsed.  However, I don't cloak; but if I did, this is one way I would show you how. (Mom, it wasn't me.  Geoff Kenyon gave me the idea.)
I call this charcoal cloaking; because, for one, I enjoy embracing cool names for colors, and secondly, my example is not malicious; I did it to my own boss, Mr. James Agate.
Notice my Skyrocket author box.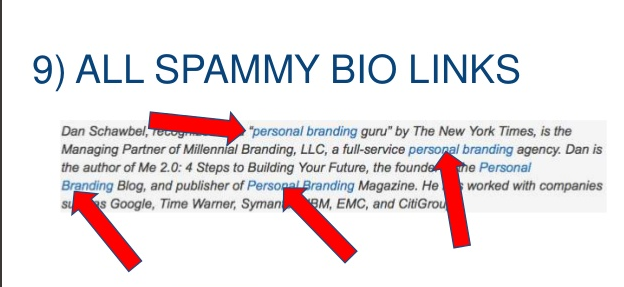 Oh wait.  That's not my box, that's a box James used as a bad example of trying to get too many links to your erm, personal brand in his ThinkVis presentation.
Here is my present Skyrocket author box.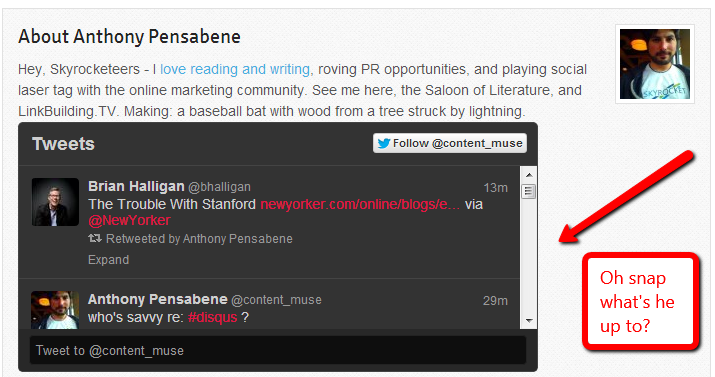 How did I get my Twitter feed in there?  I created a Twitter widget, implementing it into my author box.  It's followed and moreover, like Geoff advised in his article, one could tinker with the associated HTML.
Look what I did, modifying the embed code, redirecting the HTML to Content Muse rather than back to the default Twitter.com URL.

I'm a badboy, like Johnny Depp in his early days.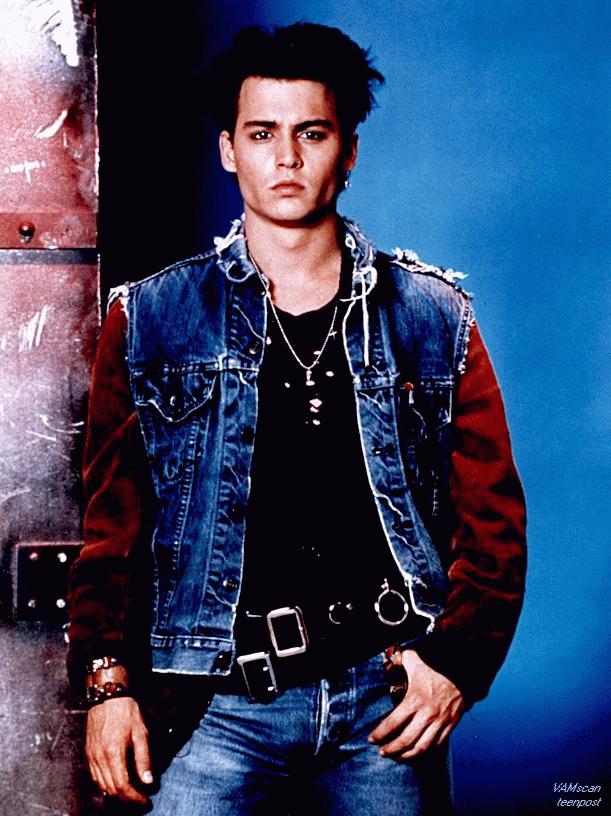 Pff, actually this dude is way badder, but we know this.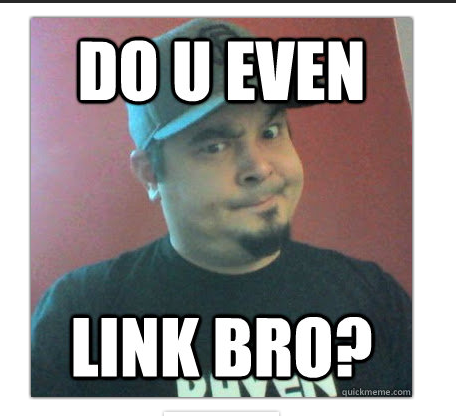 Here's an alternative to the above method. Let's say I wanted to reconnect with a previous gracious host of mine, such as Search Engine Journal, where I recently wrote about on-page optimization.  What if I wanted to go back and help promote a bit other than my tweeting and sharing?
What about others who found the post useful?  The sentiments of others who champion the post serve as a positive signal to others initially approaching the post.

Thanks, Bram.
Maybe, SEJ editors would like to insert the Twitter search embed for the URL; that way newcomers will immediately see a positive signal related to the post.  Boom.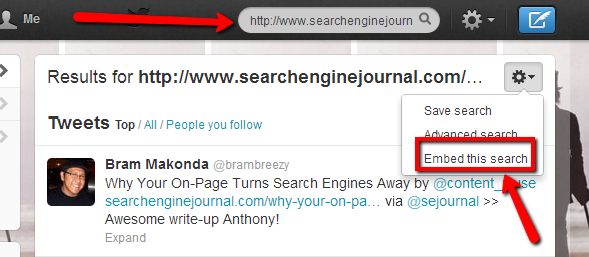 I did this with my search operators post.  If AJ's diggin it, I may want to promote his promotion.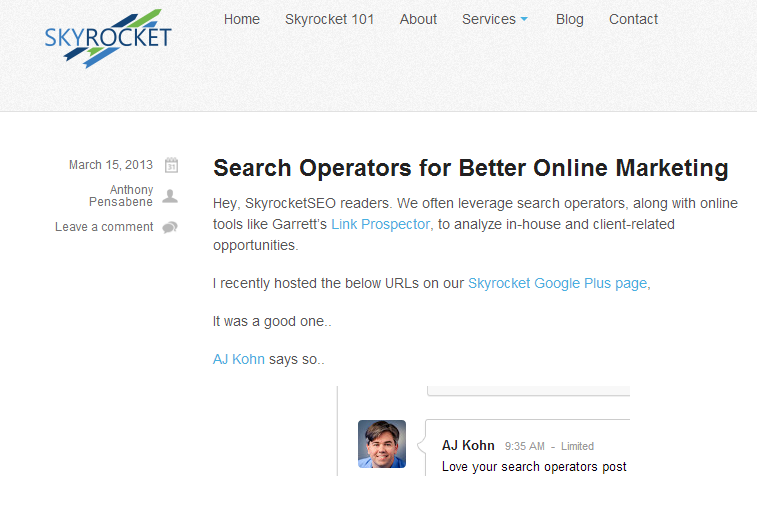 Again, I don't condone dark arts, at least not out in public.  I recommend using embeds for better PR; better PR leads to traffic, leads, and money, if your band is worthy… but, what do I know?  Pro tip – If you do do use others as symbols of testimonial and good signals to your brand, let them know.  They just may link to that page do to their inclusion.
Rhoades' Reader Review:
–   Use peoples' reactions from Twitter to endorse your posts
–  Use Twitter search to create embedded HTML code, code you can later modify
–  Think of creative ways to use your Twitter searches, such as in your author profile box
Design Derelict 
Above, I caught a screenshot of AJ Kohn championing our Skyrocket post.  The action was inspired by AJ's minding and tracking the importance of online images.  For example, there are many ways to uniquely marketing on Google Plus; it's more visual than Twitter; pictures and images make an impact there.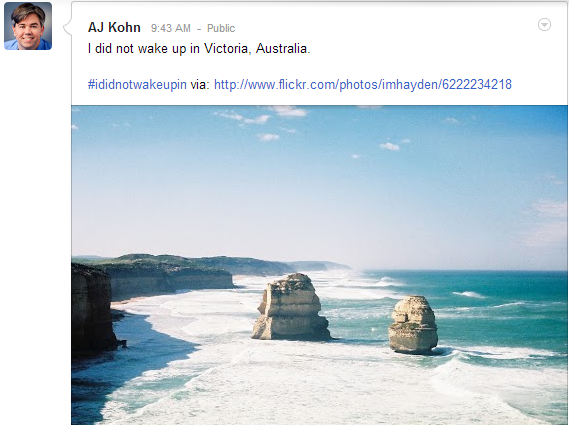 I wanted to have a bit of fun with AJ; so, when he prompted me to better my search operator's post attraction, with a good picture, I thought it would be clever to capture his endorsement.  However, GooglePlus is picking up a richer image I made with CoolText.com.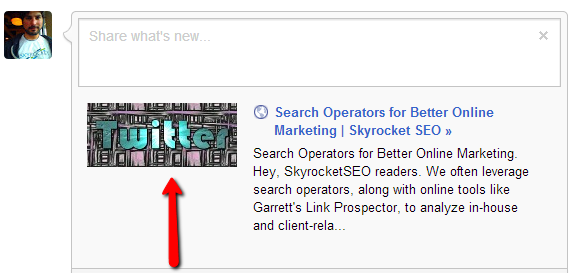 So, I got to thinking.  I remembered reading a creative link building post by Jon Cooper.  Therein Chris 'Links' Dyson waxed poetic on a little linking ditty he performed on a mommy blogger once.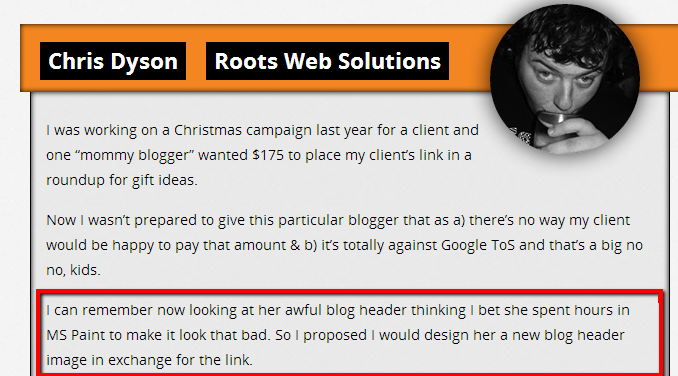 What if we wanted to get bad again?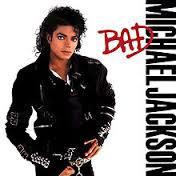 We could tinker with the HTML of engineered text.

Okay.. then…
I have to be honest in saying I changed the HTML, Don.  That image link is going to my personal blog.

One could reach out to webmasters who need an insertion of some graphic stimuli.  Remind them graphics make a difference, as Jeff Bullas reminds.
The 94% statistic alone should get some webmasters to raise their eyebrows about existing or to-be content without some image love.
Rhoades' Reader Review:
–  Search for blogs/bloggers who don't have an image or who do not have great images at the start of their post
–  Remind them of the importance of images regarding on-page reception and when sharing on social platforms like Google Plus
–  Realize (at your own risk) you may modify existing HTML codes to your own devices
The Beginning of the End
I don't want you to get the wrong impression of me.  I'm a good guy when the mood strikes; I'd also advise walking the other way if you're not a good guy, but then again 'good' and 'bad' are on my terms.